Digital is no longer just an innovation - it's already a necessity for survival in any market. Augmented reality applications open the door for businesses to the future, which has already arrived.

We have experience in augmented reality app development since 2014, and our team of professionals provides fully integrated augmented reality solutions for mobile devices based on IOS and Android operating systems.
Based on our experience, we came up with the optimal sequence of steps to implement a successful AR project.
Here they are:
A client brief with outlined goals and objectives;
AR product concept idea development;
Project technical documentation with the stages and implementation timeline;
Creation of an AR product: scripting, 3D modeling, animation, design, programming, voice acting, testing and debugging the product, release;
Product technical support after the release, including user support.
We focus on achieving goals and creating the highest value for our clients.
Today AR technologies already allow achieving positive results in marketing for the business industry, which previously could not be done using traditional methods.
What is Augmented Reality?
Augmented reality (AR) is a state-of-the-art technology that lets us superimpose the digital world over the real one with the help of three-dimensional objects.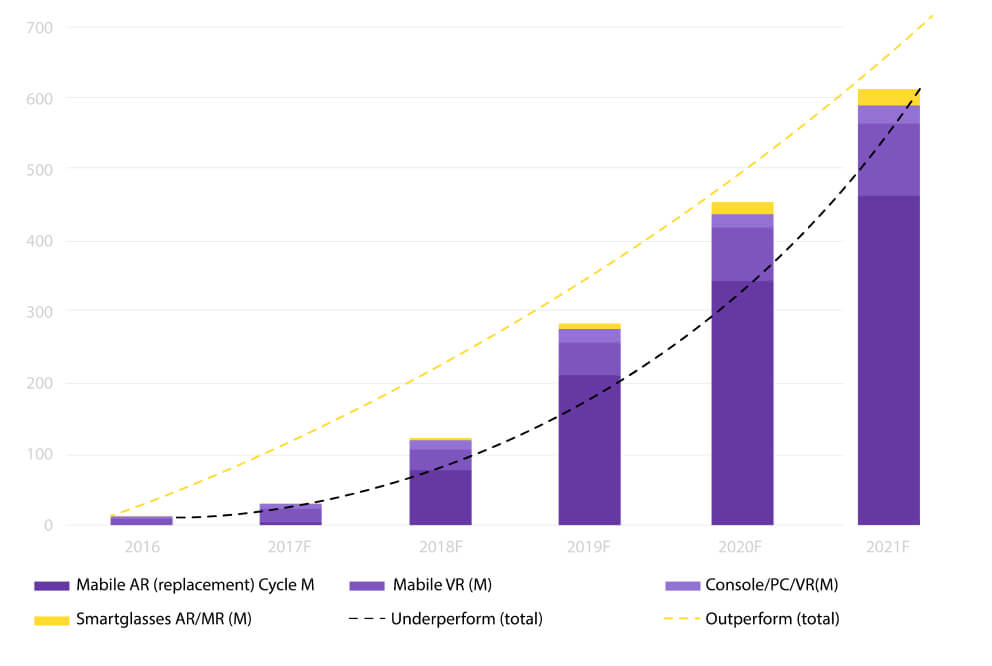 As a result, we get a reality, enhanced with interactive digital components with the help of our smartphones or tablets.
With such a competitive advantage, your company will be able to:
Build an emotional connection between your product and the customer;
Attract and keep repeat customers;
Increase customer loyalty with high-tech solutions.
Build a niche competitive advantage in a short time. With AR you can win new market segments from your competitors.
Another advantage of this technology is the usability. Your clients and consumers won't need special devices or expensive equipment, programming skills, or other special skills. The end-product can be seen and used on any smartphone. This allows you to extremely efficiently bring your projects to a new previously unattainable level.
Get the consultation
Applications of Augmented Reality
Augmented reality can be applied to almost all areas of the B2C and sales sectors. Here are the examples:
Real estate and construction industry - AR technology broadens the horizons and changes the standards we are used to. Now the client can see the construction site, the interior of the house or apartment without leaving home or simply being anywhere in the world. He can learn the details of the layout and choose the elements of decor and other materials he is interested in.
Augmented reality in education is a new trend that allows you to teach your employees faster and better, implement new learning programs, and create interactive books that turn the learning process into an exciting experience.
AR for loyalty programs in retail and e-commerce projects. According to the California Institute of Technology, companies that used augmented reality on average increased customer loyalty by 47%. This proves the obvious advantage of this technology compared to other tools.
Marketing for manufacturers. AR allows you in a new and fast way to present your product to a potential audience. Now it is possible to carry out expensive tests or fitting faster and, importantly, cheaper.
The restaurant business can increase loyalty and the average check, with the help of the latest 3D technology.
Augmented reality for museums and art exhibitions. Have you ever wanted to create a presentation or exhibition of your works or products in augmented reality for an audience of more than a million, without even leaving your office or home? Now it's possible.
Creative start-ups benefit tremendously from the adoption of new technologies in visualization.
Digital technology is a helping wind, just open the sails of your business, and let this digital wind to them.
The benefits of working with us
Our aim is to produce only high-quality and sales-generating AR products, while strictly adhering to the timelines.
We develop innovative marketing solutions according to individual customer needs and capabilities.
We provide a full product creation cycle, from the idea to the finished project and its technical support.
We are highly experienced in creating AR and VR projects, especially for kids & family audience.
Our team of professionals is the trendsetter in the augmented reality field.
The creation of AR applications requires the high competence of the team members, many hours of experience in AR development, the latest knowledge in the technological process, and a desire to solve customer problems.
From the very beginning, we relate our work to the partnership. We see ourselves as much more than just a contractor. Because we do not just create a product for you, we directly take part in your business, contribute to its development.
Price of AR application development
The cost of the development of a finished augmented reality project depends on the client's objectives and desires. To calculate the budget we use an individual approach to each AR project.
We thoroughly study the objectives and all the expectations, analyze all the available options to create a high-quality product and only then provide the client with comprehensive information.