ARKit from Apple is a revolution on the level of the creation of iPhone.
09.08.2017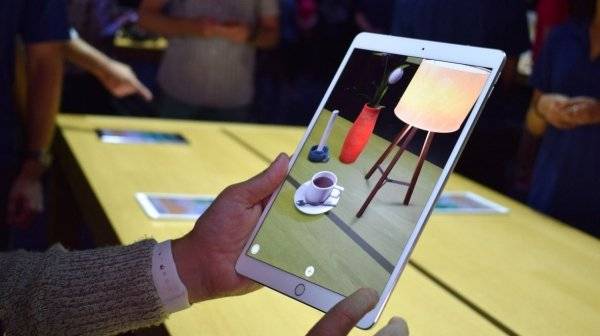 The future has already come - after the next presentation of Apple ARKit in the fall of 2017.
From now on our life will never be the same, and communication with the consumer will change forever. The AR Kit is an innovative Apple platform for the development of augmented reality applications, which we expect in September. It will be easier to win consumers' loyalty by developing applications that significantly enrich their lives, solve a persistent problem or increase sales.
Now it won't be difficult to get closer to your favorite game / movie / cartoon character, just turn on the camera on your iPhone or iPad. Presenting a complex design up close and inside a building is a trifling matter, since with the AR Kit application you can even take a close look at Elon Musk's s rocket and see how it lands down to the smallest detail right at your desk. And organizing an event where the guests can watch Madonna's performance, in whose hands they'll see an object with the right logo is a matter of time. The technology will certainly force virtual reality glasses out of the market, and Apple's phone and tablet users will be able to experience a new life with augmented reality.
ARKit is not Harry Potter's magic wand, but a tool that can correctly handle a large amount of data received from the device. Thanks to the camera and motion sensors, the software tracks motion, finds surfaces and determines illumination. After analyzing the data, we get a concrete idea ofthe surrounding world in the form of points of intersection, the coordinates of the surfaces and the position of the camera in space.
The main task of ARKit is to track the surrounding world (World Tracking) to create a virtual model of the real world. The software recognizes the special features of video frames, tracks changes in their position and compares this information with data from motion sensors. The result is a virtual model of the real world. Another feature is the recognition of flat horizontal surfaces. ARKit finds the flat surfaces and reports their location and size.
A question rises: so what was everyone doing for the last 20 years and why this technology only now has received scale development. Everything is extremely simple. The emergence of good cameras in telephones, sensors and the development of computer vision technologies made this possible.
According to the portal ReadWrite, last quarter Apple's investment in research and development reached almost $3 billion, while in the same period last year it was 6.5 percent less. According to the publication, most of the costs went to the developments in the field of augmented reality and software for driverless vehicles. This breakthrough will make it possible to change our world and bring magic to it.
Source : https://www.wired.com/story/arkit-augmented-reality
Back to all news