Konti - one of the largest manufacturers of confectionery products in Ukraine that operates in several countries. The company was founded in 1997. Today, it offers over 350 items ranging from ordinary biscuits to difficult desserts. It is in TOP 50 Largest Confectionery Companies in the World and exports its products to over 40 countries around the world.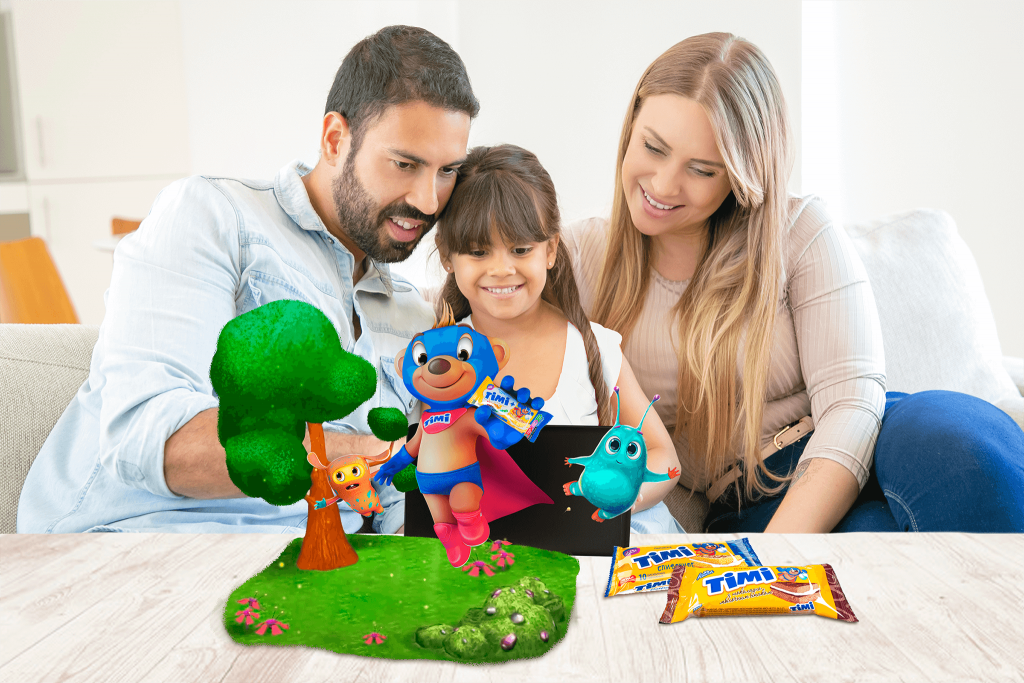 Challenge
The client was focused on boosting the sales of TIMI confectionery products by increasing its awareness with the help of the mascot - the TIMI bear. This included engaging kids and grown-ups with Timi's adventures and earning their loyalty. The client wanted to increase turnover and turn one-time customers into loyal ones as well.
Since TIMI has a wide product range, we faced the challenge to come up with an idea that would combine the entire product line, including small loose wrapped candies. As a result, we solved this problem. The user had the opportunity to scan even a small candy and receive a small reward in augmented reality.
Solution
We created a fascinating story about the TIMI bear in the form of an AR cartoon series. The customer can watch cartoons in a free app using a smartphone or tablet. The keys that open the next episodes are printed directly on the packaging.
As a result, we brought TIMI bear and his friends to life, created a special world for them, showed TIMI's character, his mission, and added many additional benefits to the product with educational and useful content.
Outcome
The project significantly increased sales and brand awareness, and such results exceeded the client's expectations. An ordinary packaging turned out to be an effective communication channel - both in terms of interaction with customers and for better analytics.
In 2017, at the time of this project's development and implementation, there were no analogs in the world. As for the technical side, no one has yet implemented ARcore and ARkit technologies on one product at the same time for marketing purposes. This project was the first to combine in one app animations based on AR technology - packaging recognition and animation playback right on it - and ARkit / ARcore technologies that allow a user to move and watch animations on any surface, walk right next to the characters, and view the cartoon from any angle. Moreover, the app includes 2D games.
We provide the client with tech support for this app for more than 3 years so far and the number of downloads has already approached 1 million.