UNITED24 is Ukraine's official fundraising platform, focused on raising funds for three main causes: defense and demining, humanitarian and medical aid, and the reconstruction of Ukraine. The brainchild of this platform is none other than Ukraine's President, Volodymyr Zelensky. Among the ambassadors of UNITED24, you'll find a host of internationally renowned figures like Mark Hamill, Andriy Shevchenko, Imagine Dragons, and many more.
NTI Loyalty drives business growth by building strong relationships between consumers and retail brands through immersive digital experiences and innovative solutions.
Many socially responsible retail chains across the country have rallied behind the charitable initiative to demine territories in Ukraine. These include well-known names such as the pharmacy chain "Podorozhnik" and supermarket chains like Varus, Prostor, BRSM-Nafta, Kopiyka, Rukavychka, Delvi, and Alma.

Objectives
Rolling out a loyalty promotion in retail chains, pharmacies, and gas stations addresses a range of crucial tasks, with a primary emphasis on charitable endeavors.
The overarching objective is to raise 10 million Ukrainian hryvnias for humanitarian demining efforts in Ukraine.
Furthermore, attention was devoted to fortifying unity. The main aim of this initiative is to unite businesses and Ukrainians in support of philanthropy, thereby bolstering patriotic spirit and solidarity.
The UNITES loyalty promotion also aimed to accomplish specific business targets for all partners:
Elevating the average transaction value.
Amplifying sales of partner products.
Attracting new clientele.
Augmenting competitiveness.
Establishing a lasting, positive emotional rapport between the retail sector and customers.
Affirming their status as responsible businesses making a substantial contribution to fortifying Ukraine.
Solution
Teaming up with NTI Loyalty, we crafted a one-of-a-kind loyalty promotion concept that spans both the digital and offline realms. We adopted an innovative approach that maximized the engagement of our target audience.
The UNITES loyalty promotion incorporated:
Digital gaming: The mobile game, focused on orc destruction and Unites' training, emerged as a primary driver of participation in the promotion. Interacting with the digital world of Unites not only provided participants with positive emotions and the enjoyment of an AR game but also demonstrated that everyone can contribute to a good cause. The opportunity to collectively strive for a common goal served as a distinct motivational factor for participants, leading to an increase in donation volumes.
Offline component: This facet allowed for the involvement of customers through a diverse range of intriguing collectible items in the campaign.

Description
For every 100 UAH spent within our partner network, customers earn the privilege to purchase a game card at a special price of 5 UAH. Each card showcases a unique Unite superhero, representing a genuine Ukrainian hero of our time. Every character comes with a special description that vividly outlines their role in the united struggle for freedom and light. For example, the Healer mends with hands that conjure magical light, bringing healing not just to the body but also to the soul, while the Firefighter stands fearless against flames, effortlessly conquering fires. Yet, his true strength lies in an unyielding spirit!
Furthermore, customers also have the option to buy a sachet containing a collectible "Unite" card for a special price of 5 UAH, provided they make a purchase and have a receipt with a participating promotion item, clearly marked with promotional labels in the store. Additionally, sachets with collectible "Unite" cards can be purchased at the regular price of 15 UAH each, in any quantity available at the supermarket.
As part of the loyalty promotion, we've introduced additional promotional items. These include a sachet with a legendary collectible "Unite" card (which includes a card featuring a legendary "Unite" character, a collectible sticker, and a collectible magnet). Purchasing the legendary sachet guarantees each participant a legendary card featuring characters with even greater strength than regular superheroes. Also included is an AR sticker of "Unite" that can be used on any surface, along with a collectible magnet featuring a unique superhero image. Another exciting component of the program is the "Unite" collectible album.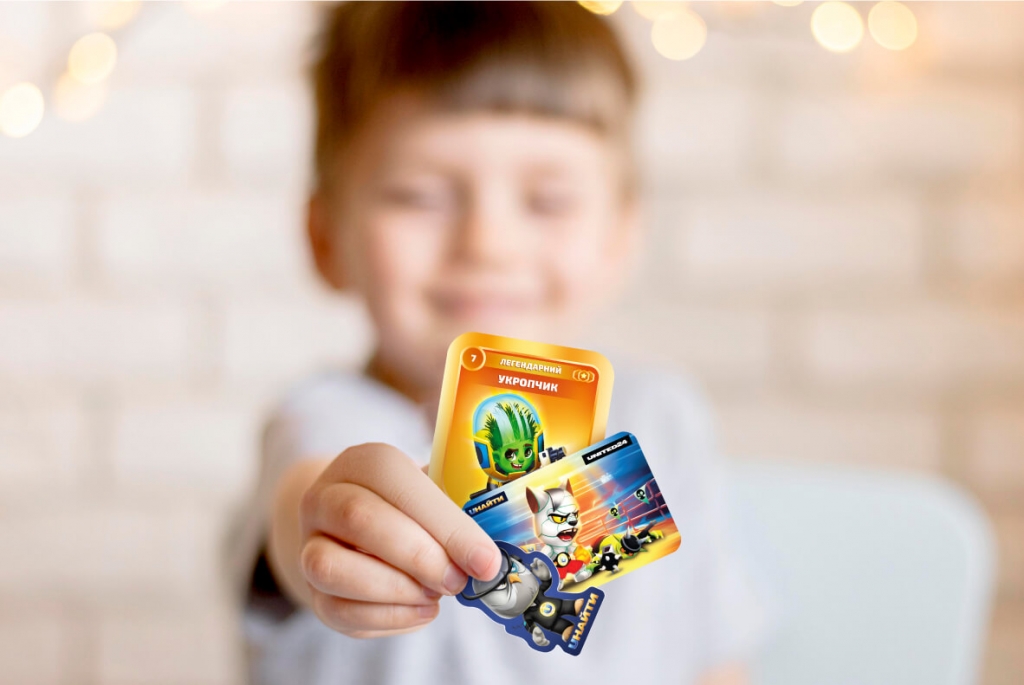 Digital Game
Every participant in the promotion has the chance to download the "Unite" mobile game for free from the Apple Store or Play Market and embark on an exhilarating adventure alongside Ukrainian superheroes. Each image on the cards can be scanned and brought to life, enabling players to train Unites and assemble an unstoppable team to vanquish orcs in augmented reality! On the digital battleground, Unites take down invaders and their military machinery. The player's mission is to fend off the invaders' attacks and liberate Ukraine from orcs. In addition to the core features of the app, a range of exciting bonus games have been included.
Through the gaming experience, we aimed to illustrate that genuine heroes walk among us and to remind everyone of the importance of acknowledging, supporting, and respecting each one of them. With the game, we sought not only to bolster belief in victory, but also to give users the chance to virtually join the cause. We also endeavored to underscore the significance of a warrior's preparation before heading into battle. Furthermore, we wanted to highlight the power of collective unity and the effective potential for achieving our goals when we stand united.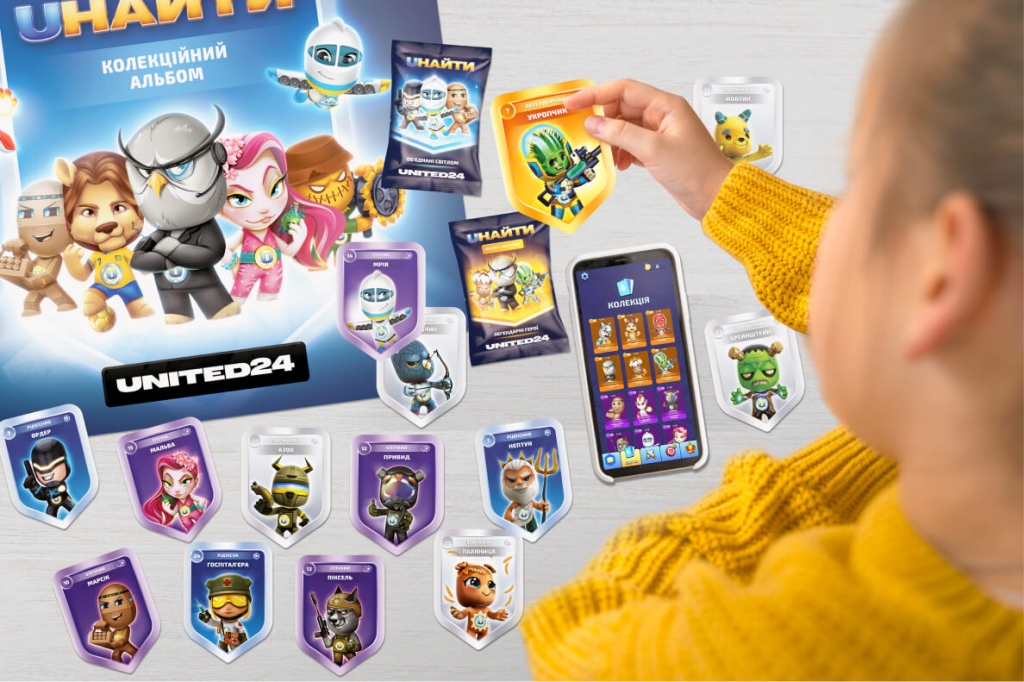 Offline and Digital Elements
As an added bonus in this loyalty promotion, you can also get a collectible album - a collector's item.
It serves not only to store your card collection but also as a training ground to level up scanned characters in augmented reality. This is facilitated on a specialized gaming area on the back side of the collector's item. After AR training, each character gains extra abilities that boost their effectiveness in battles against orcs.
Results
Thanks to Unites, we successfully accomplished our main objective. Together, we were able to gather 10 million Ukrainian hryvnias for demining efforts in Ukraine.
The app received a rating of 4.8 on the App Store and 4.9 on the Play Market, demonstrating high user engagement and a favorable assessment of the loyalty program.