Enjoy the Wood is an international family-owned company, handmade wooden maps and accessories manufacturer.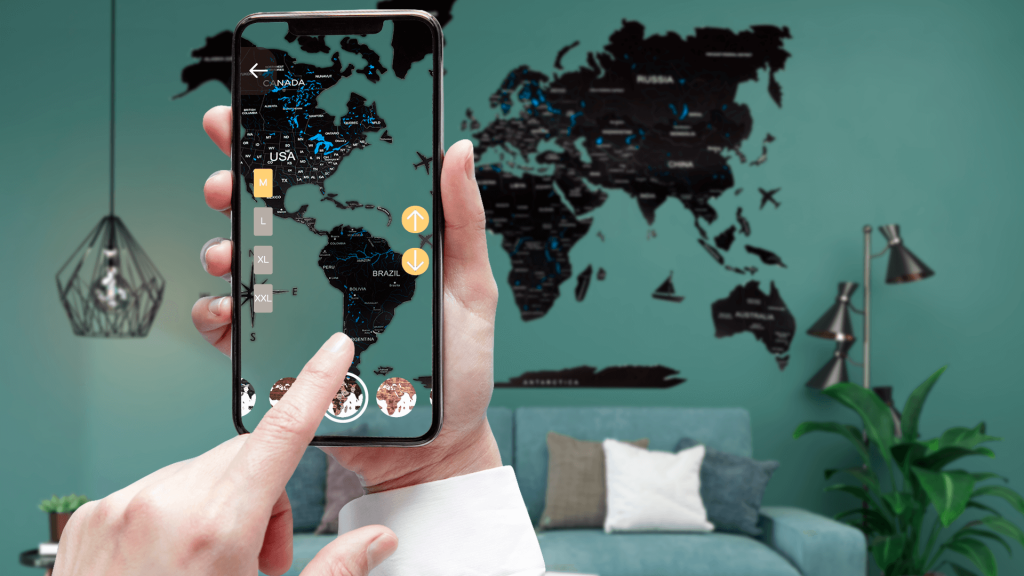 Challenge
To improve customer experience with the product and increase its usability, boost sales, build customer loyalty.
About
Large wooden world map is a creative home décor item in the first place. Therefore, the special feature to try it in the customer's own space turns out to be crucial in the purchase decision process. Maps come in different sizes and types, so the traditional WebAR fitting technology didn't work for this case.
To solve the client's business task, we have developed an AR app. With its help, a potential customer can easily try on the map on his wall, and even choose the optimal size and type of future purchase.
Buying a home décor is always about consulting and discussing. Therefore with our app, it is possible to take a photo of the map fitted on the wall. Then this photo can be shared with family members for making a joint decision. As a result, the product has become more usable and the purchasing decision easier. All this together boosts sales.
Digital transformation is no longer a "nice to have", it is already a matter of survival.
To increase the loyalty of those customers who have already made the purchase, we have provided the opportunity, using the same app, to bring the map to life, mark the already-visited countries and enjoy the animation in augmented reality, thinking of the best travel moments.
Outcome
Today everything is changing very quickly and it is important not only to keep an eye on new trends but also to apply and adjust them specifically for your product. The question we hear quite often is # What are the benefits of AR to business? The simple truth is that if one can point a smartphone camera at your product, augmented reality can improve the experience with it and thereby benefit both you and your customer.