Client: Little Hippo Books. Licensor: Walt Disney Company
Little Hippo Books is a leading US-based publishing company that specializes in AR books for children. This company has become not just our client, but a partner in many projects. Together, we have already created more than fifty AR books for children of different ages.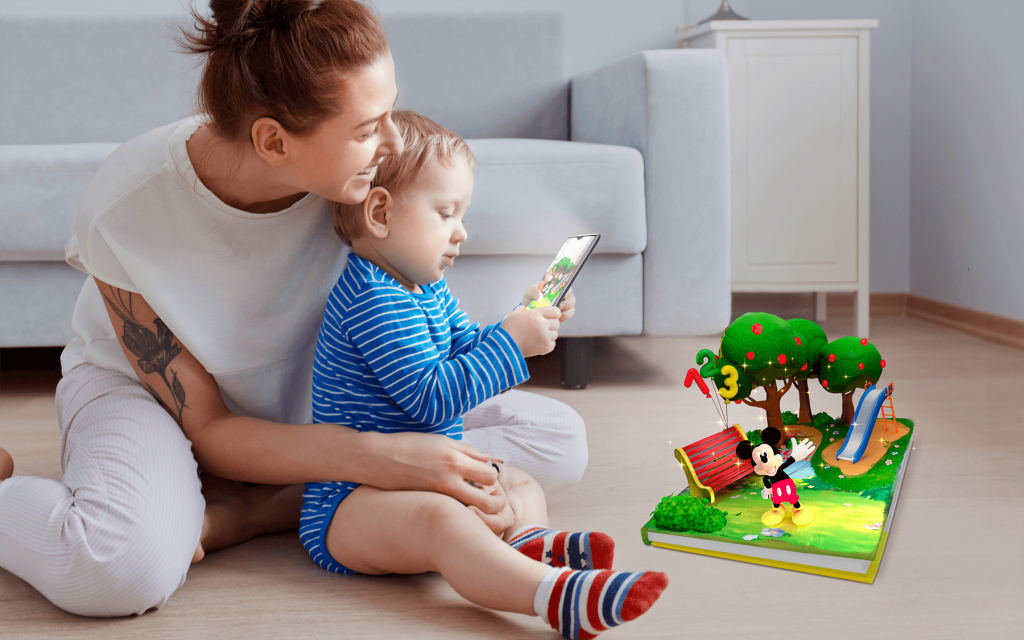 Challenge
The client wanted us to develop AR animations for two books. One of them encourages letter recognition, and the other one helps kids practice numbers and counting. In both books, the world-famous Mickey Mouse teaches kids.
Since Disney owns the rights to this character, we had to go through a multi-step approval process for all 3D content.
Solution
In both books, all pages and covers come to life in augmented reality. The virtual teacher teaches children in a playful way, encourages them if they fail, laughs cheerfully, and praises them for their successes.
We faced the main difficulties during the approval process. At the first stage, Disney experts checked the characters' compliance with the brand's visualization and sound standards, at the second stage, they checked the overall product's quality.
In fact, Disney experts tested everything for compliance with their corporate standards: ranging from the smooth flexion of Mickey Mouse's limbs to his overall character. We took into account all the licensor's requirements, the project was completed on time, and the books hit the store shelves.
Outcome
The project had a significant impact. For example, it was this project that focused the Walt Disney Company on bringing to life its other famous heroes in AR and the Amazon platform to promote this series of children's educational books. The project attracted new customers thanks to innovative technologies that teach children and received lots of positive reviews from parents that paid tribute to the technology that interested their children in reading books.
The books are successfully selling on Amazon and Disney Stores in the US and Canada. And the main achievement is that after the project launch, the client focused on bringing to life more such books with even more popular heroes - Winnie the Pooh and Frozen.