The South Korean company LG U + was founded on July 11, 1996, by the world-famous giant LG Corp. It was formerly known as LG Telecom but changed to the current name on July 1, 2010.
The company's goal is to develop telecommunications services, high-speed Internet, and other data services. In fact, LG U + was the first in the world to establish a nationwide LTE network with super high-speed services of the highest quality.
LG U + has 12 IDC centers all over the country to provide stable infrastructure and corporate customer support service.
Challenge
As you already know, the new era of the 5G network is coming. For this reason, market leaders want to switch on a 5G network as quickly and efficiently as possible. By offering their customers different goodies they promote the new communication standard. In this case, LG U + has created about a dozen free AR / VR services. One of them was the children's AR books.
Our client wanted to create an AR platform for children's books. We offered to develop a digital children's library with 50 AR books without physical copies.
Solution
Children's AR book is a well-known product among children, parents, and publishers. What makes it so special compared to the usual paper book? A customer buys a paper book in a store, then downloads a free mobile app, points the camera of a smartphone or tablet at a certain page and suddenly the book's heroes come to life. A fascinating game or an exciting animation with the book's heroes come to life in front of the customer's eyes. All this attracts children and engages them in the book itself.
But such implementation wasn't right for LG U +. It was crucial to the client to create a book's format that would bring on board the new 5G network, and at the same time provide new growth opportunities and prospects. As a result of long brainstorms, another solution was found - a free digital library (without physical books) with AR fairy tales available only to the company's customers. A customer has to download a mobile app, select the book he wants, scan any horizontal surface and a book comes to life in AR. The book itself appears on the flat surface and opens, the characters themselves tell their stories, ask for help in the form of mini-games or offer interactive educational games to the little reader-viewer.
An additional option - all the dialogues have subtitles so that children learn to read faster by comparing the text with the words they hear. It turned out to be very convenient and useful for children
Project Content
We faced the challenge to turn well-known fairy tales into a unique, creative, and developing experience.
The Three Little Pigs
We have created:
Eight 3D locations and scenes
All locations include several scenes and carefully drawn elements.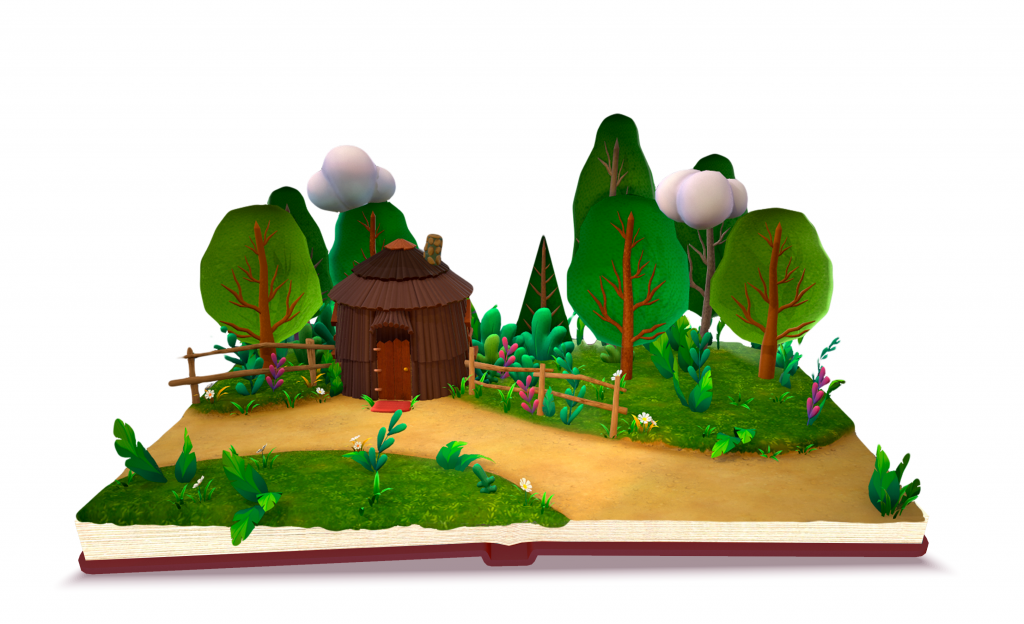 Four characters
It is possible to take photos and videos with each hero, change its place and pose. These photos and videos can be shared on social networks or saved to gallery.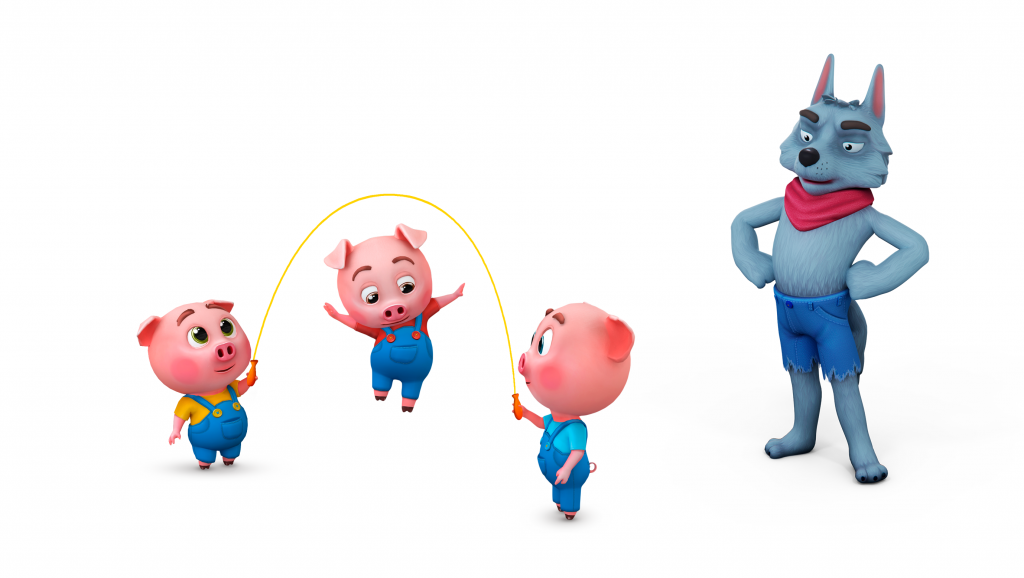 Eight 3D animations
It was important not only to reveal the message of each episode but also to develop and implement an interactive part so that the child, together with the hero could play in an exciting game. The animations' total running time is over 15 min.
Three interactive games
Children can choose the type and color of the stone from which the house will be built. They also can choose the types and shapes of windows and doors and then install them. Children do not just watch a fairy tale, they take part in it. They are the co-authors! Could you imagine how valuable it is for children? And how loyal their parents become, feeling the brand's care for their kids. And this makes the experience so special.
Cinderella
We have created :
Seven 3D locations and scenes
The special effects, with the help of which we create magic, play an important role in AR. We are talking about all kinds of fireworks and scattering of sparks, sparkling stars, shining lights, and so on. Viewers, especially the young ones, are very fond of this kind of visual content, so we try to fill our animations with it as much as possible. And this project wasn't an exception. In fact, we created lots of such effects for this book.
Ten characters
All characters were developed from scratch: firstly, we have created sketches and only then 3D models. These characters were dubbed by professional actors with an emphasis on the features of Asian speech with a great emotional effect.

Seven 3D animations
High-quality AR animations featuring characters with clearly worked out movements. Almost every character in every animation communicates with the user, so we additionally worked on lip-syncing. The animations' total running time is over 10 min.
Three interactive games
Children themselves can turn a pumpkin into a carriage, Cinderella into a princess, mice into beautiful horses, and a rat into a coachman. And all this happens with the Fairy Godmother's magic. The two books got total animation running time (excluding games) over 20 minutes.
Outcome
We launched the project on time, despite the quarantine force majeure circumstances. The client loved the result and left us a positive review on https://clutch.co/, the leading ratings and reviews platform for IT, Marketing, and Business service providers.
As of today, the app has already been downloaded more than 100,000 times. Considering the fact that it is only available on Google Play and only to LG U + customers in South Korea. It's like a special perk for the network's users. It is free, it takes care of families and their children, and it is very innovative.
In the new year, the client wants to continue our successful cooperation based on positive feedback from the users.